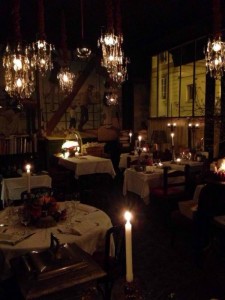 From Kim:
During my most recent trip to Paris I discovered what is now my new favorite restaurant in the City of Light.  In its 20 years, Le Petrelle has established an impressive following among both locals and tourists. With its beautiful, arty and romantic dining room, le Pétrelle is truly an exquisite dining destination. The menu changes with the seasons and each dish is made with only the best ingredients from local producers. If you're ever in the area be sure put dinner at le Pétrelle on your itinerary, you won't regret it!
-New Arrivals from France, Silk Scarves
From kim: Arriving at San Francisco International Airport a couple days ago, after 30 hours of travel from India where I was finding wonderful new things for Maison K, I was entranced by a marvelous exhibit : Lace: A Sumptuous History 1600s-1900s. Prior to being in India I was in Paris where I found the fantastic silk scarves shown above, designed with a beautiful lace and floral pattern.
I love lace! This beautifully displayed show explores a wide range of laces made over the centuries.  It succinctly explains the historical and technical development of lace and the various types with gorgeous, mind boggling examples be they edgings, parasols, gloves, collars or dresses. What exquisite creations!
 The exhibit was made possible by generous loans from Lacis Museum of Lace & Textiles in Berkely, CA and The Lace Museum in Sunnyvale, CA. I have never been to either museum but now look forward to further exploring this remarkable art form the next time I am near.