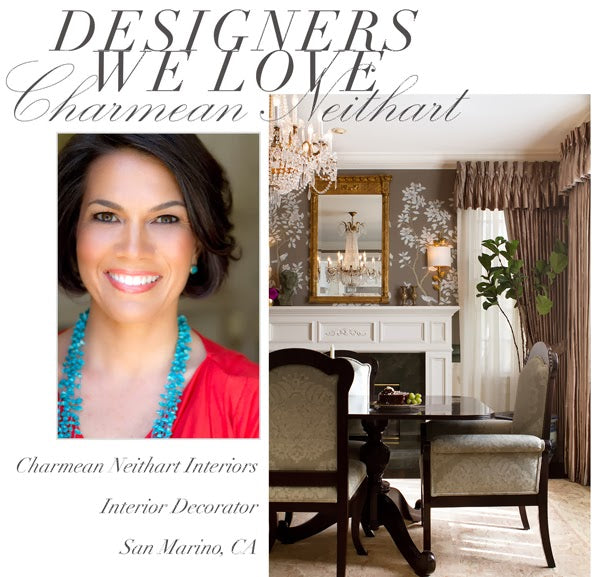 Designers We Love: Charmean Neithart
What distinguishes your interior design sensibility?
After many years now of designing for clients I have grown to understand the importance of removing constraints and rules from ideas. I'm not interested in design that feels contrived or formatted. Great design is specific to the client, therefore every project should be different. I would never want to develop a signature look. There are too many interesting people and therefore designs out there to do the same thing over and over again.

What inspires you? 
God, my husband and children, music, color, kind strangers.
How do you incorporate your client's style into your work?
When I am designing for a client I really try to get to know them. I consider their tastes, their travels, their hobbies, their quirks…everything. Once I feel I know them, I translate all of these attributes with fabrics, color, textures, furniture and art. Designing for a client is like writing a biography of their life. The stories and experiences are all theirs, but I will use my words to tell their story. The design process has to be collaborative this way.
What are your favorite 3 most important rules of interior design? 
I don't really like rules, but I do believe in proper scale, good lighting, comfortable seating, and starting with a rug whenever possible.
 How do you describe your own personal style?
My own style feels collected, textured, traditional with a hint of global-inspired touches in every room. I prefer antiques to new pieces, but love to mix the two together.
What are your favorite Mantras?
Buy the best rugs you can afford.

Don't yield to labels: just buy pieces you love.

Focus on the acquisition of beautiful pieces for your home, not quick purchases.

It's more important that your house makes you feel good, not makes you look good.