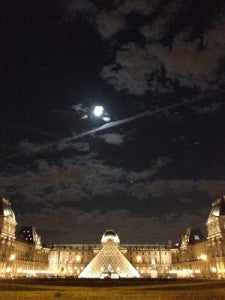 Create Sparkle & Light this New Year's
From Kim:
Paris is often called the "City of Light," described as such, because it was the first city in Europe to use gas lamps to light the Champs-Élysées.  This 19th century moniker remains apt, as pictured here on a moon lit night, with I.M. Pei's brilliant pyramid lit up like the tip of a magnificent diamond embedded in the courtyard of the Louvre.  Over the years, I have been in Paris many times in January to attend the gift show there, and I highly recommend "La Ville -Lumière" at this very off season.  I am especially happy when it snows - it's absolutely magical.  If you can plan a winter trip there and celebrate the New Year, (complete with champagne of course), it is sure to be memorable! Bonne année where ever you are~
-Santa Barbara Magazine, Winter 2014
-Shop our Super Sale!