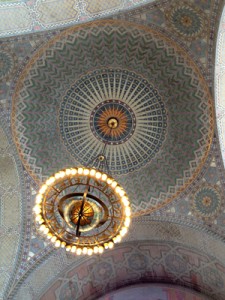 Create a coastal holiday feel in your home with these shimmering trees and wreaths made of luminescent abalone shells.  They will lend an elegant and earthy air to your surroundings.  Your own shell collections can also be displayed to further amplify the theme.
From Kim:
This magnificent ceiling is not in some far off city such as Rome or Istanbul.  It's  located about 90 miles south of us  in downtown Los Angeles.  This is the magnificent ceiling of the Lodwrick M. Cook Rotunda at the LA Public Library!  I recently took a day trip via train to the city with my father, arriving at the stunning Union Station and then walked all over downtown. We had the grandest time in this not often explored architectural treasure trove of a city.
This stunning mosaic was created by Julian Garnsey.  The Globe Chandelier is representative of the solar system and was designed by Goodhue Associates.  The globe is made of translucent blue glass, hand painted with the continents.  The planets and moon can be found in the chains suspending the globe from the ceiling.  There are 48 lights representing the 48 states in the union at the time when the building opened in 1926.
"Here in these halls the petty distractions of the earthly pilgrimage may be laid aside and their place taken by the inspiration and serenity that come from communion with the poet the prophet the philosopher the artist the scientist indeed with all those who themselves have caught a glimpse of the things that are not transitory in their natures but have eternal values."
-Everett Robbins Perry
From his address at the dedication of the Los Angeles Public Library